Journey Management Services
Do you need to simplify the journey management process for employees in the field?

Reliable safety check-ins are a key component of any effective journey management policy. CheckMate Working Alone streamlines safety checks and audit trails. The Safe Alone app provides efficiency improvements to your journey management system that will save your organization time and money while meeting occupational health and safety requirements.
Does your current journey management procedure require that staff handle worker check-ins while performing the other duties of their roles?
You may already be aware of how this method of journey management can be less reliable and inefficient. Record-keeping and providing an emergency response further complicate the responsibilities of a self-managed journey management procedure, and the consequences can be costly if a manual system fails.
The CheckMate Safe Alone app is an intuitive safety check service that compliments and enhances your current journey management system.
We have designed out safety check tools to fit easily into the safety requirements of existing journey management policies and procedures. The Safe Alone app is easy to use, making the safety check process simple and streamlined for end users. For administrators, staff travels are fully documented with readily accessible GPS data and check-in reports.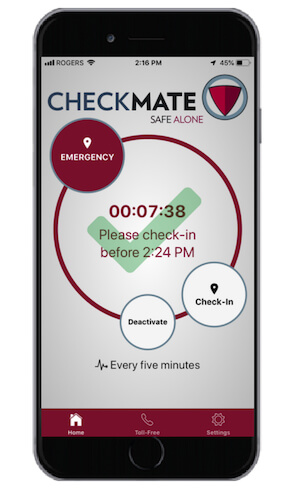 Implementing CheckMate as part of your journey management or driver check-in system is a straightforward process. Our team of safety check specialists work with you to establish the best safety check procedures for your department. Emergency situations and safety checks are handled by our trained Emergency Monitoring Centre operators, and we tailor our response procedures to meet the requirements of your health and safety policies.
Contact us to learn more about CheckMate Journey Management and to discuss whether the Safe Alone app is the right safety check system for your team.