Safety Checks and Emergency Response
CheckMate Safe Alone is a personal safety app that offers the ultimate in lone worker protection. It's easy to use, and flexible based on your company's needs. The CheckMate Safe Alone app is available to both Apple and Android users.
Protection at Your Fingertips
If an emergency occurs, lone workers can trigger an emergency alarm to notify ProTELEC's Emergency Monitoring personnel instantly. Location coordinates are sent with the alarm and updated when the phone location changes.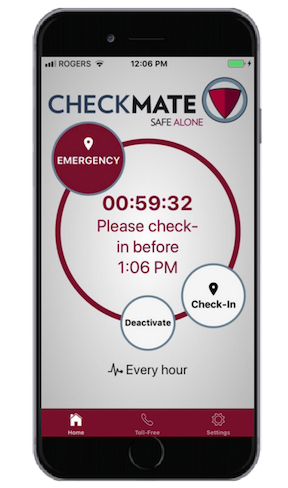 Managing Safety Checks couldn't be easier:
Safety Checks are controlled with the push of a button. Simply open the smartphone app and click 'Activate'.
Check in with the tap of a button.
Proactively check in to confirm your safety and reset the clock.
With each check-in, the location coordinates are collected.
After each check-in is confirmed, the next check-in time is displayed, and reminders occur via pop-up notifications.
Flexible & Customizable Check-ins
Employees are able to proactively check in before their scheduled check-in time, if they know they're going to be busy. The Safety Check Frequency is based on a schedule that you provide us, and can be updated at any time to meet the changing risks for your lone workers.
24/7/365 Monitoring
Our team of highly trained professionals are always working to ensure that your lone workers' safety is being monitored. If a check-in is missed for any reason, after 3 minutes our automated system will call the employee, who enters their 4-digit PIN to confirm they are safe.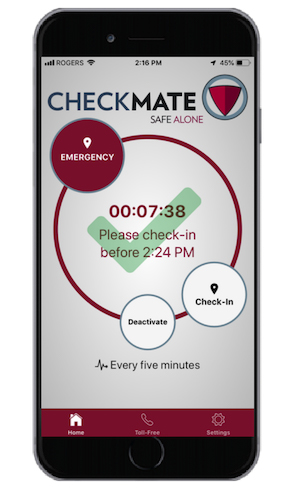 Should the second check-in attempt be missed as well, an alarm is sent to our Emergency Monitoring Centre, and one of our operators will attempt to call the person. If this goes unanswered, ProTELEC operators immediately notify the proper parties to ensure that the lone worker or worker in isolation is out of harm's way.
Travel Safely with SafeWalk
SafeWalk is for any situation where you may worry about your safety. When activated, location information is sent to ProTELEC frequently via GPS as a person is walking around.
By pressing the power button on your device, an emergency alert is sent out to our 24/7 Monitoring Centre where our trained professionals are always available to assist.
Locate Staff and Monitor their Safety
CheckMate's Dashboard provides managers and administrators with an overview of lone workers currently being protected. At a glance, you can view their status, whether they are Active, in Alarm, have a Safety Check in progress, or if the service is turned off.
Safe Alone app check-ins are instantly available in map view.
Need help setting up and using the CheckMate Safe Alone app? The Safe Alone user guide is available for easy reference.