Simple and Discreet Employee Emergency Alert System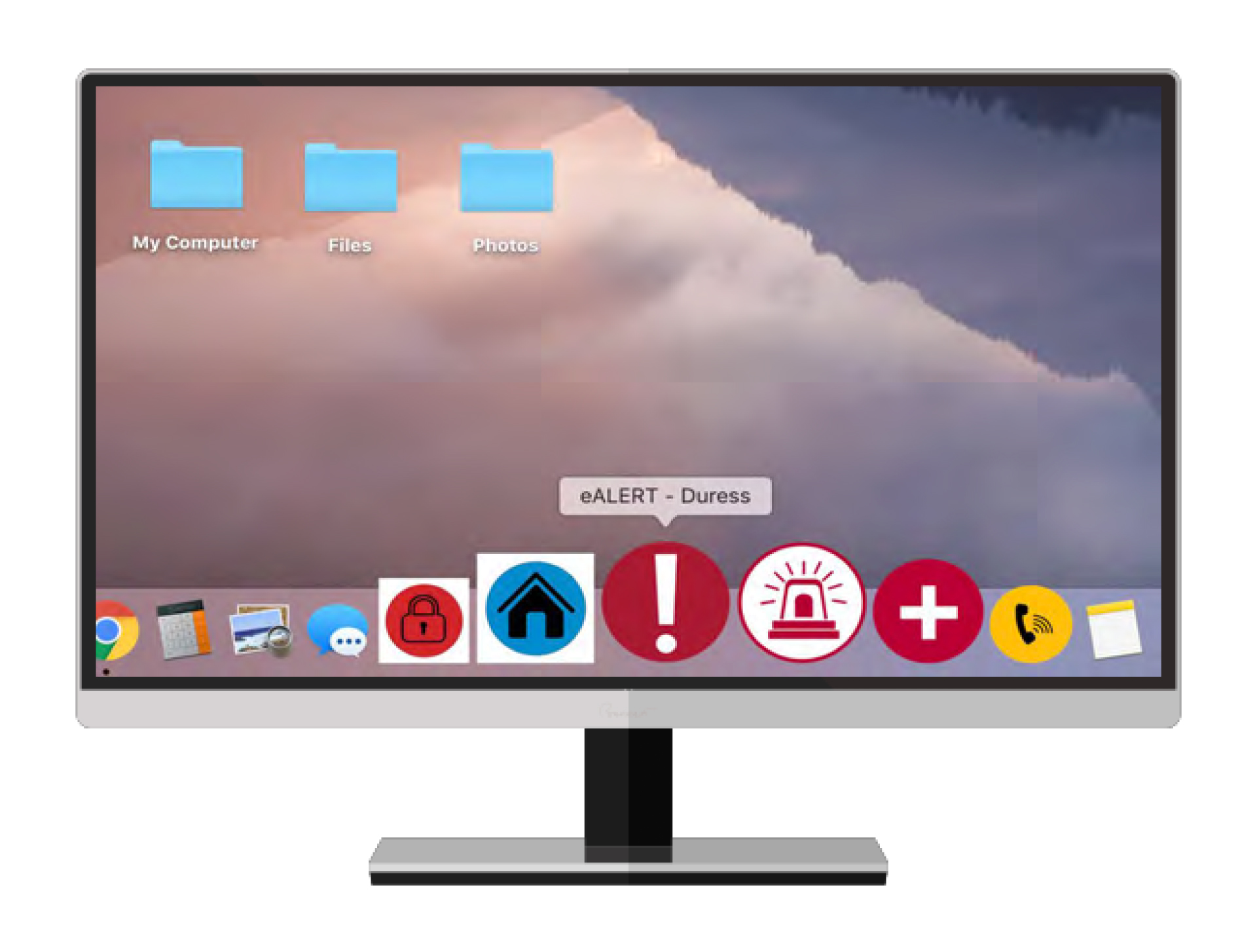 What is it?
CheckMate eALERT is a set of emergency buttons that are added to a computer's taskbar. By clicking on an eALERT icon, a distress alarm will be sent to ProTELEC's 24/7 Monitoring Centre where live, professionally trained staff will be there to respond.
In the event of a dangerous, risky, or uncomfortable situation, employees can discreetly signal for help with just the press of a button.
Specific Buttons for Specific Scenarios
More than one eALERT button can be installed on a computer to enable the triggering of different emergency signals (Duress, Hold-up, Medical, Notify) with appropriate response protocols configured for each button.

Duress
Employees who could find themselves at risk of verbal and/or physical abuse from their clients. ProTELEC responds by notifying management and/or other employees on site and can also dispatch police.
Hold-up
Used for employees at risk of being robbed. The ProTELEC responds by dispatching the police and notifying key employees.
Medical
Used for most business, education, and healthcare environments where there are risks of someone needing urgent medical attention. ProTELEC contacts the employee that generated the alarm to see if an ambulance should be dispatched.
Notification
Pressing this button will notify onsite employees that the worker who pressed this button are in need of assistance. ProTELEC contacts the employee who generated the alarm or notifies other employees to come to that person's aid.
Additionally, we have two buttons that were specifically designed for academic professionals.
Hold & Secure and Lockdown buttons
These will generate a customized response from ProTELEC, determined by the education facility's administration based on their unique needs.
For the safety of the person triggering the alarm, there is no audible response when the button is pushed. The alarm includes the computer location and computer user's name if the computer is not shared with other users.
Who is it for?
CheckMate eALERT is suitable for all workplace environments and is ideally suited for retail, schools and universities, healthcare, government, and additional organizations where staff interact with members of the public.
There is no software or hardware to buy. Whether you run a small business with 10 employees or a large corporation with 1000s, CheckMate eALERT can be customized to fit your needs, enabling all workers to be safe in any situation.
Why Choose ProTELEC?
ProTELEC's Emergency Monitoring Centre responds to all emergency alarms, alerts the appropriate responding third parties such as police, fire, & ambulance, and notifies key employers.
ProTELEC Alarms is an industry leader in emergency monitoring. Our Monitoring Centre operates 24/7/365 and both our operators and our facility have met or exceeded the highest level of certification available in the industry.
ProTELEC Alarms operators are Five Diamond Certified by the Monitoring Association of America. The Monitoring Centre is ULC listed by Underwriters Laboratory of Canada, certifying that it meets their demanding requirements for architectural and physical features, emergency power, computer hardware and software.