Protecting Lone Workers in Areas with No Cellular Coverage
Flexible Options for Worker Safety Services Off-grid
CheckMate Working Alone makes it simple to monitor your employees when there is no cell service. Several options are available to suit your company through a range of scenarios.
In most cases, areas without cell service are known and workers are often only out of cell service range for short periods of time. Safety check-ins can continue with the flexibility of CheckMate Working Alone:
Lone workers can proactively check-in prior to entering an area with no cell service. If the worker will still be in the no cell service area when the next CheckMate Safety Check is due to occur, a proactive check-in can be completed via a land line or computer.
If unable to do either, employees can change the Safety Check Frequency before entering the no cell service area so that the next Safety Check will occur after leaving area.
Check-ins via a land phone line. With access to a land line, you can do a proactive check-in through by calling CheckMate.
Proactive check-ins via a computer. If you have access to a computer and the internet, then a check-in can be completed by going to https://www.protelec.ca/mobile/
Lone Worker Safety in Areas of No Cell Coverage for Extended Periods of Time with the CheckMate Working Alone Flare Satellite Smart Messenger
The Flare Satellite Smart Messenger is the ideal device for enabling safety checks when a lone worker is off-grid. Flare turns a smartphone into a satellite texting phone and enables your lone workers to check in via text. CheckMate Working Alone monitoring services continue with the Flare Satellite Smart Messenger, while also providing a way for employees to communicate with you by text, from any location, no matter how remote.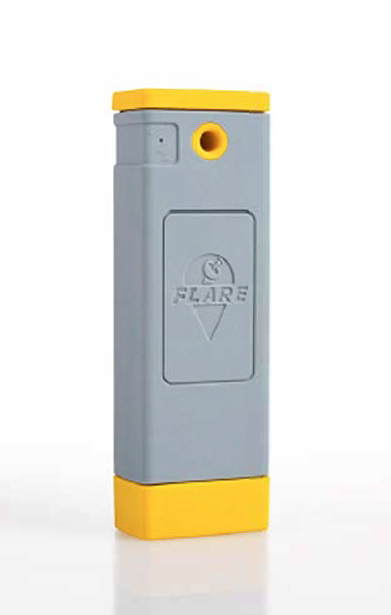 The Flare Messenger offers durable and helpful features:
Includes a high-capacity battery for charging a smartphone.
Compact and light.
Rugged, water-resistant case with sealed battery.
Protected antenna.
Simple one-button operation.
Easy-to-use, with the familiarity of a built-in texting app.
No training required.
Two-way SMS text communication—phone to phone through the Iridium satellite network.
Flexible airtime solutions.